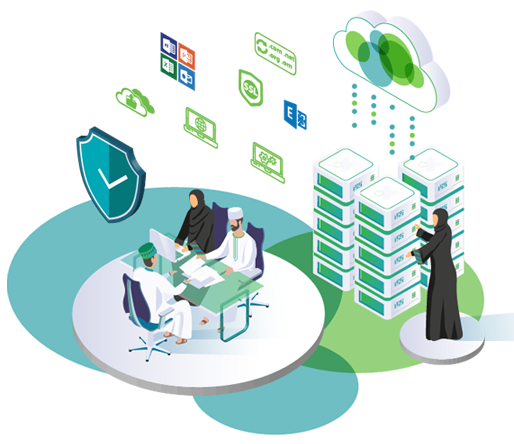 New businesses benefit from extra support, both financially and technologically. Oman Data Park is pleased to partner with Riyada and the Oman Technology Fund (OTF) to offer this support to startups in Oman.
We have three different bundles to offer your business.
Our Cloud Solutions package has all the necessary services to launch your business into the cloud in a cost-effective, secure manner. Beginning with these services as a foundation will allow your business to easily scale up as it grows. We have covered the basics of domain registration, web hosting, and email. Complete services such as Microsoft Office and Odoo ERP provide comprehensive business solutions.
The Hosted Services block brings you enormous processing power at a very affordable price. This is ideal for startups requiring data processing or app development capabilities. Peak performance is assured through our Network Operations Center and 99.99% uptime guarantee.
A Cyber Security  bundle contains all the necessary protection services to keep your startup safe as it begins its journey. Internal and external vulnerability assessments help you identify threats before they become problems or breaches. App scanning, web application firewalls, and anti-virus programs help you establish a secure perimeter around your business.
Once you have selected your required service, please contact us with the following details to help you get started with the service activation process;
Cloud solutions
 
 
Features
Subscription
Price (OMR)
SME Dev. Auth. / SEZAD
customers
Price (OMR)
Domain Registration
Domain Registration
.OM domain New
Yearly
30.000
18.000
.OM Domain Renewal
.OM Domain Renewal
.OM Domain Renewal
Yearly
18.000
16.250
Web Hosting
Web Hosting
Windows Webhosting – Start up
Monthly
1.000
1st Year FREE
Online Email
(50 GB Mailbox)
Online Email
(50 GB Mailbox)
Office 365 Exchange Online Plan 1
Monthly
1.544
1.312
Online Email
(50 GB Mailbox)
Online Office Apps
Online Storage (1 TB)
Online SharePoint
Teams
Online Email
(50 GB Mailbox)
Online Office Apps
Online Storage (1 TB)
Online SharePoint
Teams
Office 365 Business Essentials
Monthly
1.930
1.641

Sales
Purchasing
Inventory
Accounting
POS

ERP – Modules:

Sales
Purchasing
Inventory
Accounting
POS

Odoo ERP Services
Monthly
21.600
6.000
Free Support Tickets
Free Support Tickets
Yearly 20 Tickets
Hosted Services (IaaS)
Cyber Security Services