Education
Technology Enhanced Learning with 55% lower TCO and Professional Solutions
Oman Data Park is Your Best Partner for Transforming Your Education Provision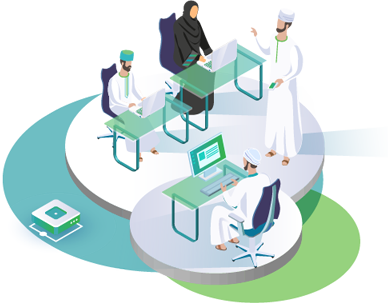 Oman Data Park can help you lead your organization to adoption of efficient and effective technology. Our experts offer Professional Services to help with almost any software or hardware package your organization needs.
We support all local universities in Oman. Key colleges and leading educational institutions also trust us as their partner for delivering great outcomes. Specific projects have included online learning, digital library curation, assignments and testing, and teacher focus groups.
Budgets are a big part of administering education organizations. Our solutions are very friendly to your budget. The average Total Cost of Ownership (TCO) for our clients is 55% lower than their previous solutions. We can help you save money.
New apps, systems, and teaching innovations can be trialed, amended, or canceled rapidly using our cloud servers and apps. Spinning up a new server to test a new student portal or teaching app, for example, can be done in a short amount of time. Greater agility and faster decision making are possible with virtual infrastructure.
Our Security Operations Center, dedicated cyber security teams, and physical barriers can protect your students' data. Disaster Recovery Plans and Backup Plans can be customized to ensure the safety of your data and continuity of your services. Specific geographical needs can be met with one of our customizable products.
Regulatory compliance and data security are major concerns for most organizations. We have already achieved compliance with all the major international regulations governing data and security. We hold certificates for ISO 27001, ISO 20000, PCI-DSS, and Tier 3 Data Center Design. For more information about risk and compliance, you can visit our information page.
These are just some of the ways our world-class Tier 3 Data Center facilities and staff can help your organization succeed.
Recommended services
Recommended Services for the Education sector
Colocation Services
Infrastructure as a Service (IaaS)
Cyber Security Services
Software as a Service (SaaS)
Professional Services as a Service (PSaaS)
Disaster Recovery as a Service (DRaaS)
Public Cloud Services
CERTIFICATIONS
90% of Teachers are on the Verge of Leaving the Profession
Teaching is stressful because the hours are long, and the pressure is high.
Imagining a world where 90% of teachers leave the profession
is shocking. Workload is only one of the challenges facing education. Tech adoption can provide solutions to a few challenges:
Workloads for teachers are the single greatest cause for concern. Teachers spend many hours marking and administering coursework.
Student wellbeing and health is a major focus of education providers. 73% of teachers worry about their students' wellbeing in their free time.
Education institutions are slow to adopt new technology. For example, AI adoption for use in education only occurs in about 4% of institutions. Yet AI can be adapted to manage the processes of student enrollment, administration, and even marking for many subjects.
Teacher workload and retention, while important, is only one of a handful of key trends shaping the education industry. There are numerous opportunities for organizations to use technology to improve their education offering.
New Technologies Can Deliver Education, Efficiency, and Evolution of Learning
Education institutions can take advantage of new technologies to improve both aspects of their service. The administration of students, faculty, and facilities can be improved by integrated software solutions. Learning outcomes can be enhanced by incorporating new apps and techniques. Both opportunities can help future-proof education providers.
Administering education is a big part of the picture for many institutions. New software packages for Student Information Systems, Learning Management Systems, and School Management Systems are transforming the way institutions manage their provision.
Learning Management Systems, integrated apps for students, and online course delivery are all big changes to the education industry. Adoption of these tech innovations is the start for optimizing learning outcomes.
Seizing these opportunities can be a challenge, but the right partnership can enable your education institution to move with the times and be ready for the next big evolution in education.