Deploy new servers, apps, and users quickly to respond to business disruptions and opportunities.
Build your IT provision on a world-class Tier 3 Data Center to guarantee superb performance and 99.98% uptime.
Leverage the support from our Network Operations Center and Security Operations Center to boost employee and customer confidence.
Run your software on our hardware with a bare metal server. Achieve blazing fast performance with the best hardware on the market.
Leverage our facilities to get the best results from your hardware using our colocation services. Keep everything secure and operating smoothly.
Deploy our managed network services to help you build your business while we manage your network. Save money and increase network performance.
Monitoring services will enable you to get the most out of your IT assets while responding quickly and correctly to any faults or disruptions.
Is Your Business Facing Disruption and Change?
According to Gartner's 2019-2020 Top Insights for the C-Suite report, 40% of businesses will be scaling or refining their digital initiatives in 2020.  90% of businesses experience disruptions due to global events or industry changes.
Responding to changes and disruptions is very difficult with static, legacy hardware in an on-premises IT department. Huge capital expenditures can be required to update outdated hardware or expand capacity to respond to new opportunities. Staff training budgets can grow exponentially when new skills are being demanded.
There is a better way to build resilience while saving money.
Business Success Relies on IT Performance
No one wants to waste money. No one wants to lose money, either.
But downtime and unplanned maintenance cause these problems.
Consider these two facts about the business world:
Every hour of
downtime costs businesses
$100,000. When your IT network isn't running or the power supplies fail, your business loses money.
Businesses can improve performance and save money by implementing managed services for their IT needs.
Managed Services Save Money, Boost Performance, and Increase Customer Confidence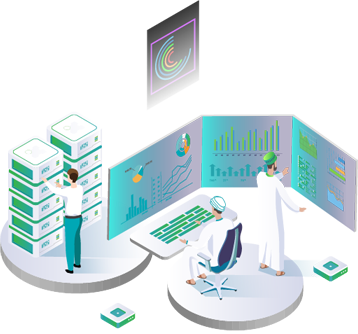 Managed IT services eliminate all your current IT system costs and replace them with a single fixed fee. You can eliminate four, five or six lines from your budget and save 79% on the total cost of ownership.
Basing your systems on our Tier 3 Data Center infrastructure will bring you the performance your business needs. You will not have legacy hardware to worry about or pay to upgrade. Your business will run on world-class hardware managed by a team of experts with dozens of years of experience.
Your customers will see all the necessary compliance and safety steps you are taking through Oman Data Park. We have industry and professional certifications you can display to your customers.
Our 99.984% uptime guarantee also builds confidence that your business will be there when it is needed.
Let us manage your IT services while you build your business and focus on your customers.