Managed Social Media Cyber Security
1 in 6 Social Media Accounts Are Fake. Protect Yourself and Your Company with a Social Media Cyber Security Plan.
Secure Your Social Media with Managed Cyber Security from Oman Data Park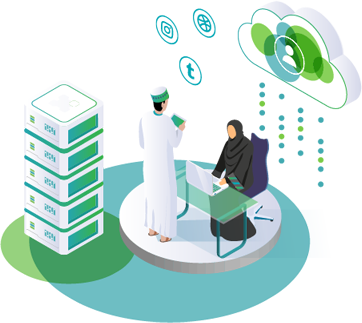 Social media can be a battle ground, but we can make you consistently victorious.
We will address fraud and brand abuse cases. Our continual monitoring of your targeted social media accounts will identify any malicious behavior and security threats.
Personal Identifying Information will be clearly identified and monitored. This prevents sensitive information from leaking into the public domain where it can be used maliciously.
Our team is highly experienced in implementing cyber security plans for businesses. Our Security Operations Center operates 24/7 to monitor threats and maintain the highest level of protection.
Key Benefits
Key Benefits
Protect Business Data
Experienced Cyber security experts working within a Tier 3 Data Center Security Operations Center provide the highest level of protection.
Cost Effective There are no hidden costs or upfront fees. You won't need to pay for more hardware or hire additional staff. Secure your social media accounts for a single monthly fee.
Ultimate Flexibility We protect any social media platform. We can create algorithms to search for specific brand keywords or conversations across the social media landscape.
Features
Features
Monitoring and Collection We define the social objects (key employee profiles, company accounts, hashtags, keywords, etc.) to monitor. These, along with the customizable rule-sets in operation, create laser-focus for collection from the vast volume of unstructured social media data. ODP only collects the content surrounding your organization, content referencing an organization-specific keyword or phrase, or content/profiles interacting with your personnel, constituents, or organization.
Outlining and Detection ODP relies on advanced algorithms and customizable rule-sets to analyze social media data for any possible violation that matters to them. Our clients are their own greatest innovators, leveraging a white box policy generator, pre-built classifiers, and customizable rules to address their unique use cases.
Prevention and Remediation The service will have an array of management actions, including white list, assign, email, or request takedown. Once a takedown has been requested, we directly liaise with the social networks to get malicious posts of profiles addressed and removed quickly and efficiently.
Social Media Security is a Battle Ground
Over 2.6 billion people are active monthly on Facebook, a very popular social media platform. Social Media is an awareness medium for businesses. It is an enabler to reach your current customers and to gain the attention of more potential customers.
Social media is also a massive target for cyber attacks. Facebook breaches alone were responsible for the 849 million leaked records in 2019. In 2018, all social media incidents combined to contribute to 56% of the 4.5 billion records breached. According to reports by Statista 16% of all Facebook accounts are fake or duplicates.
You or your business could be one of those duplicates. Hackers could use your brand or identity to steal data, ruin reputations, and take money illegally.
What happens when your brand gets hijacked?
Loss of Revenue, Reputation, and Reliability Could All Happen in Moments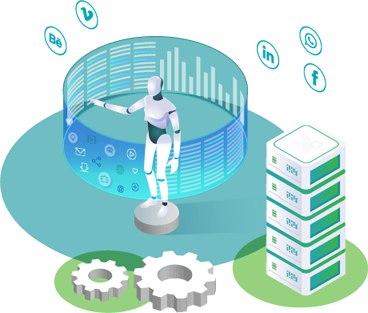 The Global Risks Report found a case of fraud in India. The report said:
"It was reported in January that criminals were selling access to the database at a rate of 500 rupees ($7,3) for 10 minutes…"
The situation in India is certainly not unique. Data is being stolen and traded around the world every day.
Fake duplicate Social media profiles could be hurting your business revenue by driving customers away. Data breaches result in an immediate loss of reputation. Customers are not likely to return to a business that has lost their information due to a data breach.
Modern organizations struggle with the scale, trusted nature, and lack of visibility of social media platforms. Targeted phishing, hacked accounts, executive threats, and data loss are all potential cyber threats on social media platforms.
How can you protect your social media accounts from these attacks?