SAP Business One
Increase your business agility by 36%, decrease ERP costs by 11%, and choose an ERP solution for the future.
Lasting Change for Business ERP
Oman Data Park meets all three of the major criteria businesses expect from the move to a cloud-based ERP:
Updates and Support Packages
Technical Support
Continued Deployment and Expansion of ERP
All these expectations, and more, are met with our SAP Business One solution for your ERP software needs.
SAP Business One will integrate your core business functions across your entire company. You can accelerate your business growth by getting visibility across all your business processes, streamlining your end-to-end operations, and gaining access to accurate information for efficient decision making.
On top of this, by partnering with Oman Data Park, your SAP Business One ERP software will run on the best x86 server hardware. 99.985% guaranteed uptime and SLA benchmarks will ensure your business is always running and ready to seize the next opportunity.
Key Benefits
Key Benefits
Increasing Business Agility: Take advantage of new opportunities swiftly
Improving Efficiency: Centralize and integrate your entire business in one system
Increasing Focus: Streamline operations from end to end
Optimize Decision-Making: Decide faster with real-time visibility of data
Optimize Time-To-Value: Be up and running within 2-8 weeks with a single application
Support your changing needs: Customize and scale with user-friendly tools and over 550 add-on solutions
Connecting Your Business: Gain operational efficiency with solutions to manage information flow and harmonize business processes
Low Total Cost of Ownership: Minimize ongoing IT overhead by moving to a cloud provider
Features
Growth in Complexity Could Stifle Business Expansion
As small businesses grow, the number of users, processes, and data points grows exponentially. Businesses respond by implementing multiple software packages to manage their department processes. These individual ERP packages may not work well together.
The lack of integration and the increase in complexity causes two problems:
Decision-making is 36% slower for businesses not using cloud-based ERP software.
Operating costs are 11% higher when businesses operate on-premise ERP software.
Is there a solution to the integration and collaboration challenges your business faces?
Disjointed and Disconnected Departments and Staff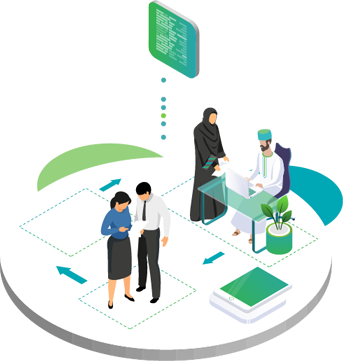 This headline summarizes the problem facing businesses without cloud-based ERP software. 48% of businesses use more than four ERP software packages. The lack of integration results in lower performance.
According to an Aberdeen Group report, this lack of integration means  businesses are 50% less likely to have real-time visibility of processes and data. 5.1% more business projects and processes are delivered on time and on demand.
Without an adequate cloud-based ERP solution, your business is already suffering from these problems. Are you ready to take the next step to sort your business planning for future?