Build a Better Business at Lower Cost
Our new promotions are here to help your organisation. Your business can deploy one of our service bundles to get the best value. Each bundle is designed to create a system of coordinated services.
These packages work together to enhance specific areas of your business or even launch new businesses with a full spectrum of services.
Organizations based in Oman can receive even more discounts through our partnership with Riyada and the Oman Technology Fund.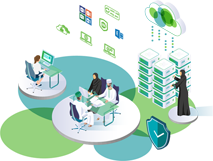 Startup Bundle
New businesses benefit from extra support, both financially and technologically. Oman Data Park is ....
Read more