Professional Services
Shift to new tech opportunities and platforms in days instead of months and embrace the future of business.
Oman Data Park's Professional Services Can Deliver Your Change in Days and Save on Costs.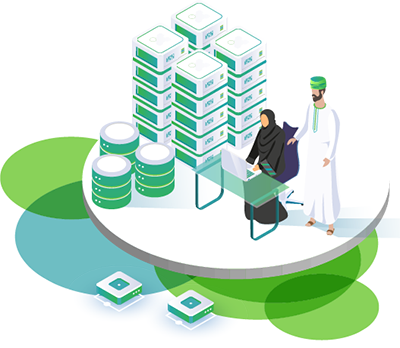 Tech innovation and the pressures of the global Covid-19 pandemic are transforming every market sector and industry. We can help your organization respond to the challenges and rise to the next level.
Our work with Alizz Islamic Bank (AIB) is an example of how we can support your business. AIB needed to respond quickly to Covid-19 but did not have the staff or resources to make necessary changes. Oman Data Park supplied the needed advice, technical support, and infrastructure to launch AIB's remote working service within 72 hours.
Our team and facilities can power your next project or innovation. We have experienced project managers, engineers, developers, and technicians who are certified professionals in more than 45 digital technologies.
We can deliver world-class results in specific areas:
Application/Platform Implementation and Integration
Network and Security Configuration and Monitoring
Backup and Disaster Recovery Solutions
Microsoft Product Stacks
Linux and Open Source Dev Environments
Virtualization Setup and Maintenance
Server Hosting and Storage Options
We can provide multiple solutions in every area. Integration is a specialty of our team so we can help your organization put its tools together into an effective workstream.
All our services are backed by the first and best Tier 3 Data Center in Oman. World-class servers, international data bridges, dedicated network and security monitoring, and multiple site backups will give your organization all the power, speed, and reliability it needs from its network.
Key Benefits
Key Benefits
Implement new projects or outcomes quickly without the need for new hiring or infrastructure investment.
Access trained experts who can provide the best advice for your next digital shift.
Leverage the power of Oman's first and best Tier 3 Data Center to power your network, servers, and software.
Achieve great value with a price-per-project cost structure.
Our Expertise
Our Certifications
Driving Change Through Innovation Secures Business Success
Forbes recently published an interview with Marcus Whitney from Health: Future. One of his points is highly relevant to the future of your organization:
In 2005, the largest companies in the world were energy and finance conglomerates like Exxon Mobil, General Electric, BP, Citigroup, and Bank of America. Today, the biggest, most valuable companies in the world are all technology companies: Apple, Alphabet (Google), Amazon, Facebook, and Microsoft. The reason? These companies drive change through innovation.
Your organization must embrace innovation to succeed.
If your organization lacks the people, skills, or infrastructure to embrace the next market disruption or global shift, then the costs are simply too big to ignore.
There is a way to make these shifts now. Many businesses are turning to strategic partnerships to access the resources they need for the outcomes they want.
Organizations Need Partners to Get the Most Out of Emerging Technologies
CompTIA estimates 46% of new revenue growth in the IT industry will come via emerging technologies. New innovations are undoubtedly driving change across all market sectors.
Embracing the shift to digital business has become even more crucial since the onset of the Covid-19 pandemic. All business is now digital business. Yet the barriers to digital transformation remain roughly the same.
In 2018, Gartner analysts identified six key barriers to becoming a digital business. One of these barriers is the talent gap that exists in many firms.
To put it simply, many businesses do not have staff with the expertise or experience needed to embrace innovations. Opportunities are missed because the cost of new staff, fresh training, and more infrastructure are too high.
Effective partnerships are the next step in producing real digital transformation for many organizations.