Why ODP?
World-Class Facilities, Proven Industry Leaders, and Great Return on Investment.
Oman Data Park is your best choice for a technology partner and data center in Oman and the Middle East. We deliver the right outcomes, have great staff to support you, and our facilities have all the capabilities you need.
Our value to your business comes in three ways:
Outcomes that achieve your goals and meet your business needs
Experts who can use their decades of experience to support you
Facilities capable of everything your business demands of its IT
Oman Data Park is the only Cloud Services Provider from Oman to be mentioned for the third consecutive time in Gartner's Hyper Cycle for IT in GCC. We are also the first and only Microsoft Azure stack service provider and the first and the only Virtual Data Center operator as well as the only CSP with a DSS PCI certification in Oman.
Brilliant Outcomes Achieve Business Goals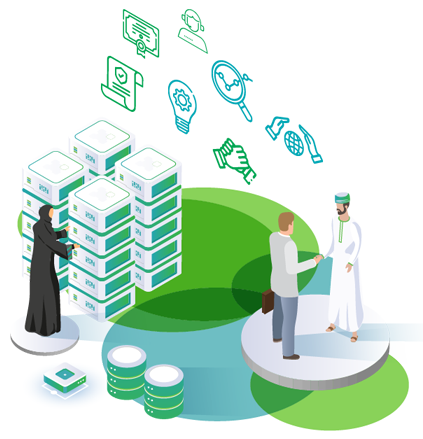 Could your business survive if none of your employees could go to their workplace? That is exactly what happened to Alizz Islamic Bank during the Covid-19 crisis. Suddenly, their employees were required to stay home, and office access was denied. How could the bank survive without being able to serve its customers?
Alizz Islamic Bank contacted ODP immediately. Together, ODP and Alizz launched a remote workspace program for their staff members. Within 72 hours, staff had remote access to their workstations and customer service resumed.
The goal was a company-wide implementation of remote working during a global pandemic. Alizz Islamic Bank met its targets through partnership with Oman Data Park.
This case, and hundreds more like it, show how our staff use their project expertise and experience to bring you solutions powered by our facilities.
Expert Support from Proven Industry Leaders
Expert Support from a Proven Industry Leader
We can demonstrate our success. Oman Data Park launched a small bare metal server service in 2011. Eight years later, in 2019, we were awarded the prize for Best Digital Data Center in the Middle East at the Telecom World Middle East Awards. Our management team and staff have helped us grow from a small start to a regional industry leader.
Every industry has specific challenges. We have been able to work with leaders across major industries to deliver expertise, experience, and equipment to meet their challenges.
We have extensive experience helping Government organizations deliver public initiatives at low cost. Subsidiaries and partner businesses benefitted from TCO savings as high as 45%.
Partnerships with Culture and Education organizations produced rapid ROIs and TCO savings between 33-40%.
Financial services business and banks have leveraged our expertise and equipment to pivot towards new opportunities in their sector. Rapid implementation and TCO savings of up to 40% have been possible for them.
Manufacturing and Oil and Gas businesses built new capabilities through partnership with Oman Data Park. Their unpredictable infrastructure needs required a flexible, scalable approach. We delivered customized services with TCO savings between 30-40%.
Each of these industries, and others, benefits from our professional approach to providing world-class Data Center services covering Infrastructure (IaaS), Platforms (PaaS), Software (SaaS), Cyber Security (CSaaS) and Professional Services .
Our services can be customized according to your business size. We offer specific packages for these stages of growth:
Startups benefit from packages designed to help them launch quickly with the best services as a foundation for their future growth.
Small and Medium Enterprises partner with us to expand their operations and implement industry-specific software and platforms to take their business to the next level.
Corporations can leverage our staff and facilities to lower their total cost of ownership by replacing costly in-house equipment with flexible, scalable cloud solutions.
Facilities Designed to Serve Businesses
What Do You Want to Do?
AWARDS & CERTIFICATIONS