Microsoft Azure
Join the digital transformation. Make faster decisions with better data, seize new opportunities, and boost your security.
Oman Data Park Can Help You Launch Microsoft Azure for Your Business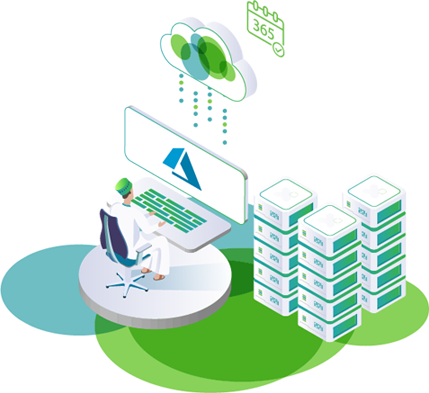 Oman Data Park is a Microsoft Gold partner and a Tier 1 Cloud Solutions Provider. This means we partner with Microsoft to deliver the best service to your business.
In addition to the core offering of Microsoft Azure, we provide extra value to your company:
Talented staff members have years of experience and training to help your launch and transition to the Azure Cloud go smoothly.
Superb facilities and hardware ensure you can operate with a full cloud-based solution, or a hybrid cloud solution to meet your needs.
Services such as Disaster Recovery, Managed Security, and Backup bring an integrated approach to the necessary parts of your IT infrastructure with Azure Backup and Azure Storage.
Our value to your organization is our experience and support. We can help you build a better business through implementing cloud-based apps, data analytics, and more with Microsoft Azure.
Key Benefits
Key Benefits
Microsoft Azure is fast. It improves speed of deployment, operation and scalability.
Microsoft Azure boosts business agility to enable faster development cycle.
Microsoft Azure boasts global reach with Azure regions in every part of the globe.
Microsoft Azure has an integrated development environment with Visual Studio.
Microsoft Azure provides additional disaster recovery options through regional and global fail-over provision, hot and cold standby models, and rolling reboot capabilities.
Microsoft Azure offers flexible spending options to increase ROI and manage demand fluctuations.
Microsoft Azure offers security through Windows Hello to enable higher security without cumbersome user experiences.
Features
AZURE A-SERIES
AZURE D-SERIES
Is Your Business Developing the Apps, Processes and Transformation It Needs?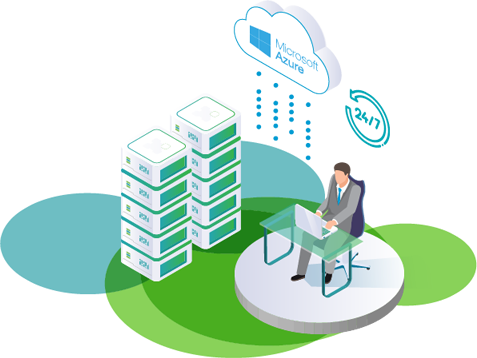 Digital transformation has touched every market sector. Businesses are developing new ways of working that propel them to greater success.
Businesses have relied on knowledge, experience, and 'gut instinct' to make decisions. DriveTime, a used car dealer, worked this way. Then they saw the need to change. "We needed a process that was more data-driven and transparent, and that might help us bottle and share all that seasoned knowledge," said their Business Intelligence Developer (BID).
Seizing opportunities can be difficult for businesses that rely on traditional developer operations. Changes must be approved by the IT department. New hardware must be purchased and deployed. The process can easily bog down until the opportunity has come and gone.
"We had a good idea that might have been lost if we had to wait for the IT support to prove the business process," said Travis Bleile, DriveTime's BID. "With Power Apps, we seized the opportunity to improve the way we buy more than half our inventory."
Faster processes, better decisions driven by data, and shorter time to market for new projects are not limited to the auto industry.
Is your business getting these benefits?
Digital Infrastructure Reduces Silos, Allows Faster Development, and Creates Profit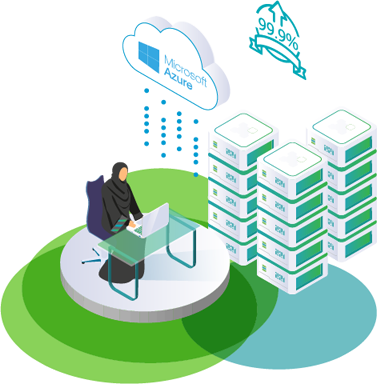 Managing business growth during the tech transformation is difficult. New opportunities can be delayed by old processes.
Three major companies moved their core processes to the cloud to build profits and competitive advantage. Here's why they did it:
H&R Block, tax giant, needed to streamline its offering and serve customers on every channel. Aditya Thadani, their Enterprise Architecture and Information Management Lead, said, "We no longer have data platform silos to serve our clients in-person versus online. This has been the single biggest impact for us to enable seamless omni-channel experiences for our clients."
B. Hunt, transportation company, needed to move faster. The move to cloud services with Microsoft Azure enabled J.B. Hunt to scale services faster and achieve a faster time to market for new offerings, including a new e-commerce operation generating $1.3 billion.
P. Moeller-Maersk needed to reduce operating and hardware costs for its Remote Container Management platform. Their move to Microsoft Azure "has delivered the underlying infrastructure we need to take RCM to the future," said Siddharta Kulkarni, their Senior IT Project Manager.
These success stories, and thousands more like them, reveal the positive benefits companies without a cloud-based platform are missing:
Shorter time to market for new opportunities
Greater data processing for faster, smarter decisions
Improved service delivery through all channels
If your business is missing out on these benefits, you could start to move into the future today with Oman Data Park.