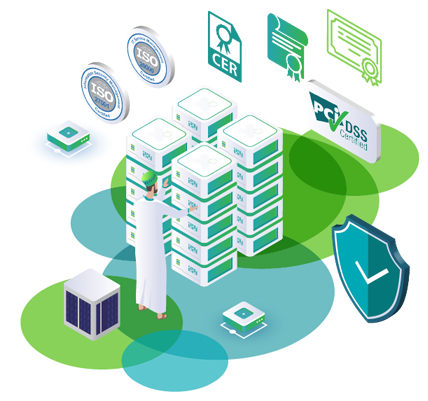 We understand the absolute need for risk mitigation and regulatory compliance. The costs of security and data non-compliance are incredibly high. A report from Corporate Compliance Insights suggests non-compliance costs are almost three times as high as compliance costs. We strive to go beyond the minimum standards and achieve excellent risk mitigation and regulatory conformity.
Is your business spending too much money on compliance efforts? Could your business be losing money due to the loss of efficiency that comes from a non-compliant system?
Oman Data Park is fully compliant with industry standards. We have already achieved the necessary data security certifications and compliance your company needs. Our risk reduction strategies can be applied to your company in partnership with us. This will ensure your business meets all the necessary regulatory targets and is prepared for any foreseeable problem in the future.
Security Organization
Security Organization
While security threats and vulnerabilities continually evolve, one thing remains constant: the need to implement processes and technology to ensure the highest levels of security. Oman Data Park's (ODP) Risk & Compliance Department is responsible for setting objectives for Information Security Management to guarantee the security of our clients.
We designed these policies to protect your business. These directives are not simply words and rules. They are established, reliable processes for shielding businesses from harm due to data loss, theft, or attack.
Our Security organization is comprised of 6 Policies:
1. SECURITY POLICY Your business wants to succeed right now. Slow networks, obsolete software, and poor performance are obstacles you have faced before. Oman Data Park has 24/7 access to the best high-speed networks and servers in the region.
2. ASSET MANAGEMENT POLICY:With the Asset Management Policy in place, ODP focuses on achieving and maintaining appropriate protection of ODP's critical infrastructure required for its service delivery.
3. HUMAN RESOURCES SECURITY POLICY :In order to ensure the systems housed within the data center are kept secure, this Policy establishes controls, regulations, & authorizations that apply to all ODP employees, contractors and third-party users. Each party has specific responsibilities and roles. These are enforced via a signed Non-Disclosure agreement.
4. PHYSICAL & ENVIRONMENTAL SECURITY POLICY:Procedures are installed to prevent unauthorized physical access, impairment, and interference with the organization's premises and information. Access Control Framework ensures authorized accesses to the appropriate systems and resources with defined security perimeters. This protects areas that contain confidential or sensitive information and systems. In addition, we have implemented procedures & follow best practices to protect against environmental threats and utility company failures.
5. INFORMATION SECURITY INCIDENT MANAGEMENT POLICY: The purpose of this policy is to ensure a consistent and effective approach to the management of Information Security Incidents. This ensures communication on security events and weaknesses. Corrective action is managed in a timely fashion by defining and establishing a structure for the reporting and management of such incidents by our staff.
6. SECURITY VULNERABILITY REPORTING POLICY:We carry out continuous vulnerability scans across our infrastructure and certify that the required corrective action has been taken to remedy the vulnerability detected. The policy ensures the prioritization and mitigation of any reported security observations/vulnerabilities.
Compliance
Certifications
Security Reports & Requests
Security Operations Center (SOC)
Oman Data Park runs a 24x7x365 Security Operations Center (SOC).
The extensive services offered include specific policies you can adapt instead of creating your own policies at the cost of time and money. The physical security infrastructure we invested in can replace your business investment in costly checkpoints.
We are compliant, so you can be compliant, too.