Public Cloud services offer you all the support and experience you need from our team of experts.
Our Public Cloud solutions are industry-leading options for business investment from partners sch as Acronis, Microsoft, and Omantel.
Our world-class Tier 3 Data Center provides a 99.99% uptime guarantee.
Performance and availability can be guaranteed through user-specific Service Level Agreements (SLA).
Monitoring of all your assets is done by our Network Operations Center. Real-time visibility is available 24/7.
Our Security Operations Center is staffed by experts who scan for threats and issues all day, every day.
The hardware in our Tier 3 Data Center is top-notch and can deliver the best performance for your business.
Regional and international connections provide great speed and low latency for your network.
Experts Forecast Worldwide Public Cloud End-User Spending to Grow 18% in 2021
Gartner forecast this growth as part of their look ahead to 2021. Adoption of public cloud services is rising quickly.
Why are so many people and businesses moving to use a public cloud solution?
The answer is simple: public cloud is better than ad hoc, private solutions.
Businesses operating email through a server in the back office experience performance degradation over time. Backup powered by personal USB sticks or unwanted desktops creates numerous security vulnerabilities.Web hosting on an open platform comes with poor performance and the threat of ads running on a company webpage.
For all these reasons, and more, businesses are shifting their workloads to a more professional solution.
Foresight and Continual Investment Are How Businesses "Win in the Turns"
Economic challenges come from all angles. A global pandemic can reshape how the world does business. Government regulations can change, consumer fads produce unexpected demands, and new market forces disrupt established conditions.
Fit and agile businesses win during these turns.
Andy Rowsell-Jones, vice president and distinguished analyst at Gartner, said:
"A big take-away for CIOs is that fit enterprises increasingly view IT as a point of leverage for the business," said Mr. Rowsell-Jones. "Having a clear and consistent overall business strategy ranks as one of the most distinctive traits of fit enterprises. In such organizations, digital technology will drive that strategy."
Unfit businesses invest in IT just to keep the server lights running or maintain the company network. Fit businesses look for business outcomes and advantages from their IT investments.
The public cloud offers businesses a great way to begin their digital strategy and investment.
Public Cloud Services Hosted by Oman Data Park Are Affordable, Effective, and Secure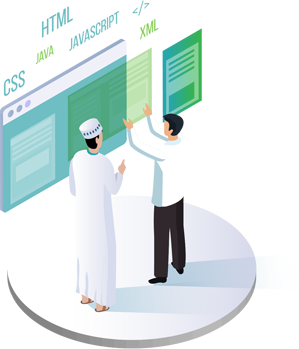 One of the biggest barriers to IT investment has been the scope of investment required. Renewing hardware, hiring and deploying staff, and shifting to new software solutions has been seen as too expensive.
Public cloud services with Oman Data Park are the opposite. They are affordable, effective, and secure.
All our public cloud solutions are available with no upfront fees. Each service offers a simple monthly payment plan to help your business control its IT spend.
Our plans also come with discounts for longer contracts.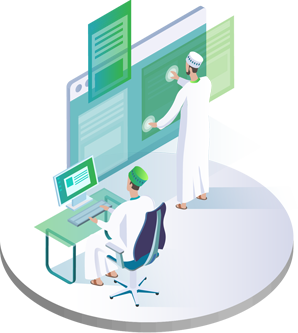 Affordable doesn't mean poor. Our services are full versions and ready for business. Acronis Backup Cloud, Microsoft Hosted Exchange and SharePoint, and our new Office Out of the Box are industry-leading business services.
We never compromise on security. Our systems are hardened against attack. The Security Operations Center within our Tier 3 Data Center provides real-time threat assessment and protection for our hardware, data, and clients.
Explore our Public Cloud solutions today.
We can help you take the next step towards becoming a fit and agile business that wins in the turns.