Hosted SharePoint from Microsoft
Reduce Expenses by 32% Through Hosting Your Microsoft SharePoint with Oman Data Park.
Microsoft SharePoint Hosted by Oman Data Park Gives Your Team All the Tools They Need to Work Better Together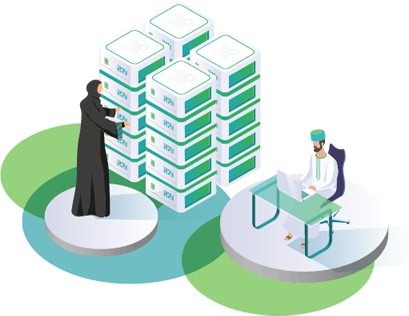 Moving to a complete CMS system is complicated. Working with Oman Data Park gives your business the best chance for success.
Oman Data Park is a Microsoft Tier1 Certified Cloud Solution Provider. We have partnered with Microsoft to deliver key software packages to many clients. Our team is highly trained and experienced. We can help you launch and maintain your SharePoint online service.
Your network performance will increase once your hosting with us begins. Our Tier 3 Data Center provides world-class hardware and security. We offer 99.99% uptime guarantees and rock-solid Service Level Agreements to give you the best performance.
Reduce your capital expenditure by converting hardware purchasing and maintenance into a single monthly bill for collaboration software.
Launch your SharePoint service with Oman Data Park today. Choose the best plan for your business or contact us for a more detailed consultation.
Key Benefits
Key Benefits
24×7 Support with access to our competent support team
Cost efficient with a 32% lower capital expenditure and no maintenance costs.
Experienced technicians and staff manage the hardware and network so you can get on with building your business.
The service is scalable and so it is easy to add, edit, or remove users as your business needs change.
Features
ODP SharePoint
Self-Hosting CMS Software is Demanding and Frustrating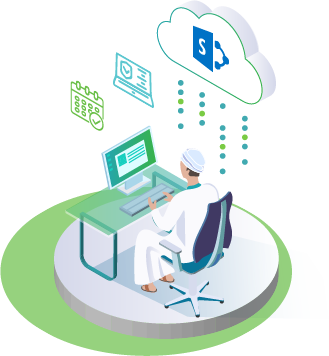 Your business contains vast stores of information. Much of it may be locked away inside the minds of your staff. Other pieces of data are stored in documents, spreadsheets, and emails on dozens of different systems.
You can bring all this information together and enable much greater teamwork within your organization.
Microsoft SharePoint is a splendid collaboration software for businesses. This particular program has been used by over 80% of Fortune 500 companies for their intranet.
Hosting a CMS program Like SharePoint in-house rather than using a qualitycloud service provider can be frustrating. The learning curve for installation and maintenance can be steep. Organizations could save up to 32% of Capex by outsourcing more administration to cloud suppliers.
Can your business save money by changingto a facilitated administration for your SharePointCMS software?
On-Premises Collaboration Solutions Can Prove Too Demanding for Some Businesses
According to an AIIM report, a massive 40% of organizations don't consider their collaboration software successful due to difficulties with in-house hosting and maintenance.
We know that collaboration and teamwork playa vital role in the growth of any business. Disruptions such as the Covid-19 pandemiconly highlight the need for greater integration.
Hosting your own collaboration software and document libraries can be a steep learning curve. Servers must be purchased, set up, and maintained regularly. User accounts must be initialized and monitored. Any errors must be identified and corrected carefully.
Many organizations have found these tasks to be beyond their normal sphere of operations. Hiring the necessary experts to solve these challenges is too expensive to justify the continued investment.
There is a way to gain all the benefits of cutting-edge collaboration without the high investment cost of a traditional, on-premises solution.