Odoo on ODP Cloud
Reduce your expenses by 32% and increase your ERP software performance by hosting your Odoo apps on the ODP cloud.
Off-Site but On Point for Your Business
Odoo may be complex and resource-intensive, but we have the right facilities and the best team to deliver for you.
Instead of spending capital on costly servers to run your Odoo applications, let us set up an Odoo install for you. Oman Data Park's servers are world-class and designed to carry the IT loads your business needs. We guarantee 99.985% uptime and can provide SLA to ensure you receive the performance you need from your Odoo software.
Our team is highly experienced at implementing Odoo solutions for businesses. We can help plan your migration, set up your service, and deliver on launch day. We'll also provide continuous monitoring to proactively identify and address any faults before they become problems for your business.
Oman Data Park is the best choice to save money on your ERP Odoo software while achieving optimal performance for your Odoo apps.
Key Benefits
Key Benefits
Cost Effective Hardware and Maintenance rolled into a single cost center.

Data Protection World-Class Tier 3 Data Center Security will be applied to your Odoo ERP.

Ease of Use No extra device setup required for VPNs and 24/7 accessibility from any device, anywhere.

No Hardware Management We ensure all hardware is up to date and functioning optimally.

Easier Scalability and Integration New hardware assets can be brought online in minutes as your business expands. No need for CapEx to grow your business.

Quicker ROI ERP software ROI comes faster without CapEx to repay.

Fully Managed Odoo Experienced staff manage your server and investigate any issues if they arise.
High-End x86 Servers The best hardware available will be deployed to guarantee your performance needs are met.

Odoo Optimized Servers Pre-configured servers use CentOS or Ubuntu Stack are optimized for Odoo software.Multi-threading, database, webserver optimization, Odoo security, preset open ports, and advanced password protection are just a few of the features of our pre-configured OS.
Daily Backups A backup and data security plan can also be implemented to protect your business.

Uptime Guarantee 99.985% uptime guarantee backed by redundant hardware and VPS nodes.
Ultimate Flexibility We support any Odoo app which runs on CentOS, Ubuntu and even Windows Server. While Odoo recommends Ubuntu, we are more than willing to support the setup of your choice.
Features
ERP Software is Demanding and Complex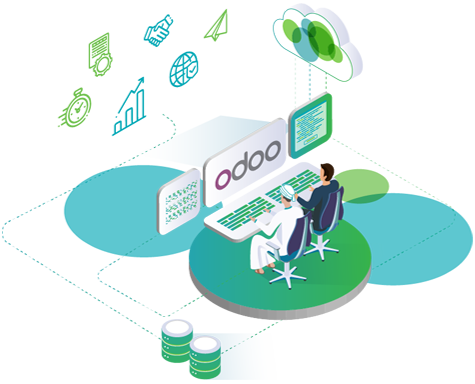 Odoo is brilliant software for businesses. The open source element has allowed thousands (20,000+) of apps to be developed. A huge number of businesses run some or all of their ERP software on an Odoo app.
At the same time, Odoo is resource-intensive and very complex. Hosting Odoo applications in-house instead of using cloud services could be costing your business. 451Research estimates businesses could save 32% on costs by bringing more services to some form of cloud provider.
Could your business save money by switching to a hosted service for your Odoo ERP apps?
Costs Are Determined by Assets and Performance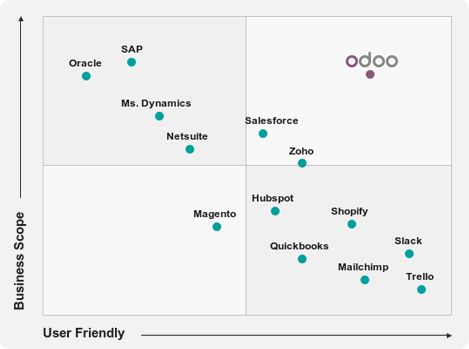 Odoo apps use a lot of processing power – especially when businesses have more than 10-20 users. Scaling up your servers to reach the best level of performance could be costly. Plus, purchasing your own hardware reduces your business agility. It locks you into the need for staff who can operate these servers.
Buying the right equipment and employing the correct people are two big asset costs of running Odoo in an on-premises setup. Achieving the best performance may be very costly for your business.
Why not reduce your costs and guarantee better performance?