Financial Services
Work Together with Oman's Only PCI DSS Certified Cloud Services Provider for Increased Security and 55% Lower TCO.
Oman Data Park Can Be Your Trusted Partner to Build Success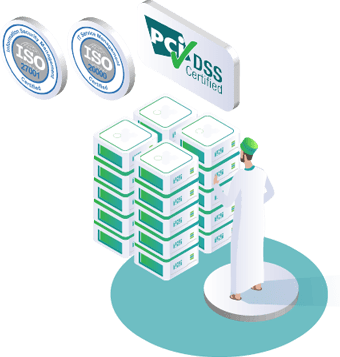 Seizing opportunities, gaining footholds, and rapid changes all sound like expensive and difficult things to do. We are here to help. We have already invested in the major hardware, solutions, and personnel your company needs to grasp these new opportunities.
Here are some of the benefits we offer to your business:
PCI DSS Compliant – We are Oman's only PCI DSS compliant Cloud Services Provider.
Ultra-Secure Environment – Our network security is monitored 24/7 by our Security Operations Center. Physical security is ensured by multiple access checkpoints.
55% Lower TCO – Total Cost of Ownership (TCO) will be up to 55% lower because of the power of leveraging our systems and personnel.
Expert Advice – Our team is made of the best network, security, and tech advisors in the country. You are guaranteed to receive professional, effective support for your business.
Regulatory compliance and data security are major concerns for most businesses. We have already achieved compliance with all the major international regulations governing data and security. We hold certificates for ISO 27001, ISO 20000, PCI-DSS, and Tier 3 Data Center Design. For more information about risk and compliance, you can visit our information page.
These are just some of the ways our world-class Tier 3 Data Center facilities and staff can help your business succeed.
Banking sector
Banking Sector
We understand the challenges banks face in the modern market. Our 55% lower TCO can help you control costs. Your shift to the cloud can be done securely using our PCI DSS compliant cloud environment. Our Professional Services team can support you with the right advice at the right moment. We already support all the major commercial banks in Oman with these services:
Financial services sector
insurance sector
CERTIFICATIONS
Three Major Challenges Every Financial Services Company in Oman Must Address
Every company in the financial services business has faced tremendous change in the past few years. Mobile banking, cashless payments, and the increasing rise of massive data streams. These changes have led to three major challenges for companies to address:
Cyber security and regulatory compliance are two of the biggest challenges facing financial services businesses. The average number of security breaches grew by 11% in the past year with an increase in costs to more than $13 million dollars. The rise of regulation for financial service providers is well-known.
Another major challenge is the growth of massive data streams. One leading law firm's executive said, "The use of big data in financial services can bring very significant benefits and even promote social inclusion. But realising these benefits will require the striking of a fine balance between efficiency and profitability and treating customers ethically."
Financial service providers also struggle to maintain the human touch in their customer service. Customers want to talk to a person. Providing this level of service efficiently and securely is a challenge for finance industry companies.
All these challenges are rising from innovation in the financial services industry. They also bring fantastic opportunities for your business.
Innovation Provides New Footholds for Competitive Advantage
The changes in the financial services sector have also given rise to some new areas where companies can gain a competitive advantage. As consumer expectations shift and change, companies that can adapt gain a clear edge over their less agile competitors.
Companies that can seize these footholds for competitive advantage will be positioned for growth. Seizing these opportunities requires more than just ambition, though. New partnerships must be formed to enable companies to grasp these advantages.