Microsoft 365 and Office 365
Build a better business by starting with the world's most-used desktop OS and productivity suite: Microsoft 365 featuring Office 365.
Is Your Business Growing into the Cloud Successfully and Efficiently?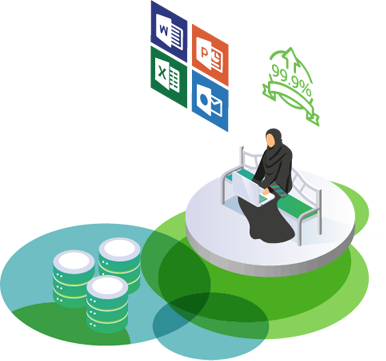 Remote working and flexible schedules are the future of the workplace.
65% of people feel they work best from home. However, 54% of HR leaders report poor technology and infrastructure for remote working is the biggest barrier to effectiveness.
The business world has been unexpectedly thrust into the world's largest cloud implementation experiment in history. Without an adequate productivity suite, businesses and employees may suffer.
Managing new workloads and processes while also implementing remote working relies on productivity infrastructure. Yet this is exactly what HR leaders point out as their biggest weakness.
How can your business build better ways for your teams to work together?
Tools That Work Together Build Better Processes and Increase Engagement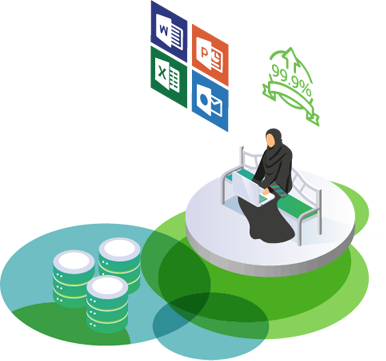 Messaging, email, content creation, and scheduling are some of the most common forms of work in business teams. Without an integrated productivity suite, these can become islands of progress in a sea of inefficiency.
Imagine a better world for your business. Send emails with secure, encrypted links to business documents. Create collaborative teams on the fly, launch instant message groups for those teams, and start designing new projects on a shared whiteboard in minutes. This is possible with Microsoft 365.
These integrations can save team members up to 30 minutes per day. Over the course of a week, month, or year, these time savings create huge gains in productivity.
Everyone is in favor of more collaboration, better teamwork, and increased productivity.
Who can manage the complex shift to a cloud-based service while maintaining reliability, security, and support?
Oman Data Park is a Microsoft Tier 1 Cloud Solutions Provider Who Can Deliver for Your Business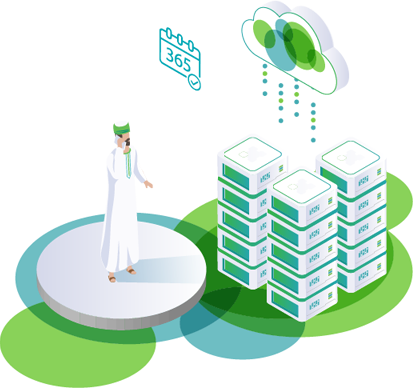 Oman Data Park has implemented Microsoft 365 Business solutions for many companies. Small-scale projects are simple in scope and can be easily managed. Larger projects for small and medium businesses, and enterprise operations, are much more complex.
We're here to deliver a reliable installation and setup service followed by top-level support for your company. Here are a few advantages to using our service for your Microsoft 365 provision:
Proven Expertise
We're recognized by Microsoft as a Tier 1 Cloud Solutions Provider. We've successfully completed many Microsoft Office 365 and Microsoft Outlook 365 setups.
Advanced Troubleshooting
Everyone likes to think setup will go smoothly and there won't be any problems. We're prepared to resolve any issues that arise because we've seen many of them before.
Prepped for Growth
Your business can be ready to grow with our other services. We offer advanced data protection, disaster recovery, and support for many more software solutions.
Our value to your organization is our experience and support. Being familiar with Microsoft or Windows is not the same as being ready to support the implementation of a full productivity suite for dozens or hundreds of users.
We have the necessary expertise and experience to launch your business to the next level of productivity and collaboration.
Key Benefits
Key Benefits
Your Microsoft Office 365 anywhere. Access documents, email, and appointments on the go from any device.
Secure Communications enabled through native email encryption and the Skype software package.
Multi-device functionality ensures the same experience across many devices.
Simple subscription service lets you add users and pay as you go instead of committing huge capital expenditure.
Collaborate with ease with enhanced file sharing integrated into every part of the suite.
Mobile working with documents available on mobiles, laptops, desktops, and anywhere with an internet connection.
Enhanced Microsoft 365 with support from our team of experts around the clock, every day.
Save money by reducing training needs because everyone will become familiar with the consistent layout and software across the entire suite.
Features
OFFICE 365
MICROSOFT 365
OFFICE365 TRIAL