Cloud Server
Develop a Cloud Strategy to Reduce Overspend by 20-50% and Deploy Today with Oman Data Park's On-Demand Cloud Server.
42% of Small and Medium Businesses Lack a Digital Strategy. What's Your Plan for Growth and Security?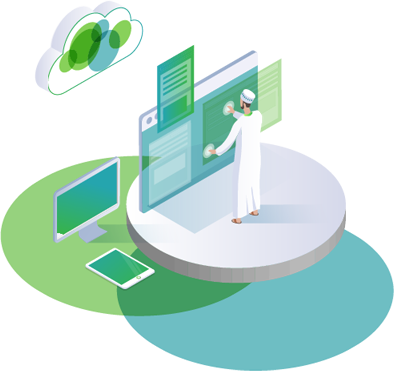 Small and medium businesses (SMB) can invest in new apps, services, and data solutions using cloud technology. New cloud offerings are well within the operating budget requirements of smaller enterprises.
However, many SMB are still using manual integrations and non-cloud services for their business processes. 46% of SMB still rely on manual Excel file uploads or custom code for integration, for example.
In addition to performance improvements, many SMB are turning to the cloud for better security. Gartner reported that at least 95% of security compromises are expected to be the fault of the customer.
Better security and higher performance levels are available to every SMB. 42% of SMB cannot agree with this simple statement:
"Our company has a well-defined digital business strategy."
Your business does not have to be without a strategy for digital performance and security. An effective partner can help you develop the right plan.
Rushing to the Cloud Can Lead to Overspend of 20-50%.
"Through 2024, 80% of companies that are unaware of the mistakes made in their cloud adoption will overspend by 20 to 50%," said Gartner's Senior Direct Analyst, Miguel Angel Borrega.
Businesses launch into the cloud without a coherent plan, spend more than they planned, and then wonder how to leverage the cloud for better performance without bankrupting themselves.
Gartner's report identifies four lessons to be learned from these hasty cloud launches:
1. Implement a cloud strategy across the organization.
2. Establish a cloud center of excellence and a cloud architect role.
3. Identify the right cloud candidate workloads and the right cloud service provider.
4. Adopt management practices suited for growing cloud maturity.
The most significant is lesson 3: identifying the right workloads and the right cloud service provider.
Public Cloud Servers Hosted by Oman Data Park Provides You with a Partner, Performance, and Protection.
All the benefits you need from your first steps into the cloud until you reach cloud maturity can be provided by Oman Data Park.
Oman Data Park is the first and best Tier 3 Data Center in Oman. Our executives and staff members are experienced in launching new initiatives and businesses – we did it ourselves. We launched Oman's first data center service in 2013 and have grown into a multi-site, international provider through our dedication to customer success, innovation, and continual investment.
All the performance you need can be achieved through a public cloud server. You can launch your new server in minutes through our marketplace. Deploy new apps, migrate large data stacks, and test business processes in the cloud. World-class hardware delivers optimal performance. Reliability is ensured through using triple replication of nodes as well as redundancy covered by three data center locations.
Our plans offer options for different operating systems. We support Windows servers, Linux servers, and Plesk servers. Each one has multiple options to suit your business needs and growth.
Security is a massive challenge for every organization. Our Security Operations Center is dedicated to providing real-time protection. We have trained cyber security experts who maintain a constant watch over our systems and networks to ensure breaches are prevented.
Deploy your new public cloud server in just a few minutes. Choose the plan that suits your needs and launch your new server immediately.
Key Benefits
Key Benefits
9% guaranteed uptime backed by Service Level Agreements
Highavailability due to multiple failover options distributed across three data center sites
24x7x365 Email and Phone based support for infrastructure
Online Market Place & Easy-to-use self-service portal
Features
LINUX
WINDOWS
PLESK