Oman Data Park, the market leader in Managed Services and Cloud Services,was felicitated with the Excellence in Global Cloud Based Services Award in the Alam Al-Iktisaad Wal A'mal Awards 2019. Eng. Maqbool Al Wahaibi, CEO, Oman Data Park received the trophy on behalf of the Company from His Excellency Eng. Ahmed bin Hassan Al Dheeb, Undersecretary, Ministry of Commerce & Industry in a red carpet event held recently at Hotel W, Muscat. The awards are instituted by Alam Al-Iktisaad Wal A'mal, Oman's leading Arabic business magazine published by United Media Services (UMS).
Oman Data Park, established in 2011, offers a complete cloud solutions portfolio covering managed services, cyber security services, cloud services, co-location and professional services. Talking about the key achievements of the company, Eng. Maqbool Al Wahaibi said, "We are delighted to receive this prestigious award. It is a testimony of our consistent efforts in maintaining the leadership status in cloud based services.Our wide client base spread across Oman, rest of the GCC market, Europe and North Atlantic markets reflect our strong infrastructure, flexible choices of services and most importantly, unstinted commitment to meet customer needs 24×7."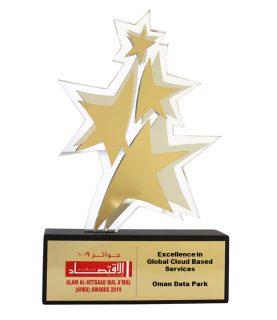 Oman Data Park's managed infrastructure services are built on ITIL/V3 framework and are ISO27001:2013 and ISO 20000:2011 compliant. The 24×7 Cyber Security Centre proactively monitors and mitigates threats.
With its consistent track record over the years, Oman Data Park has been a recipient of number of awards and recognition international platforms. It is the only vendor in Oman to be mentioned in Gartner's 2018 Hype Cycle report for IT in the GCC for Cloud Services and Disaster Recovery as a Service. It is the recipient of Fortinet's Best Managed Security Services Partner Award 2019 in Oman. It is also the recipient of Telecom Innovation's Cyber Security Award for 2018 in Oman.
This year ODP, in collaboration with Microsoft and Cisco, deployed Microsoft Azure Stack solutions in its facilities. A first for the Sultanate of Oman, the Microsoft Azure Stack is an extension of Microsoft's Azure Cloud that brings the innovation of cloud computing to build and deploy hybrid applications anywhere, while meeting local data sovereignty and regulatory requirements.
In another notable achievement this year, ODP introduced Oman's first Virtual Data Centre (VDC) – Nebula. It is at par with international VDCs. Nebula is offered locally and therefore satisfying all local government regulations surrounding customer data accompanied with strong ICT skill sets.
During the year, ODP also launched Professional-Services-as-a-Service (PSaaS) in response to a growing market need to support various businesses in their quest to modernise and improve their own information and communications technology (ICT) services. This new service is aimed at helping and guiding customers through their digital transformation in perpetration for the 4th industrial revolution and Gig economy.
In another notable achievement in 2019, ODP also received Payment Card Industry Data Security Standards (PCI DSS) certification from SISA Information Security, the payment security specialist, headquartered in India. ODP has achieved this milestone after completing the audit for its Data Centres, making them the first managed services provider in Oman to receive such a coveted certification.